Here's a trailer for the film Inception, directed by Christopher Nolan and set to be released on July 16, 2010. It's short, so feel free to watch it all if you want to, but the specific scene I'd like to bring your attention to starts at 0:42.
And here's the Conception scene from the 2003 (in Japan, 2004 in the U.S.) PS2 game Shin Megami Tensei: Nocturne. This video does contain a spoiler, but the game is seven years old and why haven't you played it by now. The moment of interest here starts at 0:36, but go ahead and watch it all if you'd like. I'll be here all day.
Both the film and the game contain a scene where a city curls up on itself. Plus the names are pretty similar: Inception and Conception.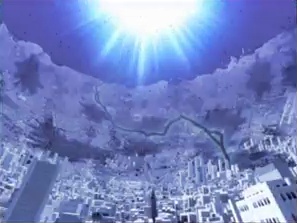 This is totally just a coincidence, and I don't believe this is plagiarism for a second. I was watching the film trailer the other day and the game immediately popped into my mind, that's all.