So, a week ago, I got an e-mail saying that my order of Electroplankton from Amazon.com had shipped. However, the estimated arrival date was rather interesting:
Apparently it would take a whole two months to reach me. So, color me surprised when I found that the package was delivered some time today. Somehow, USPS managed to find a way to knock off more that fifty days from the original delivery route, which is excellent customer service, in my opinion.
Unfortunately, my elation was quickly smothered when I attempted to open the box:
The directions seemed oh so clear: simply pull the tab lengthwise and to open the package.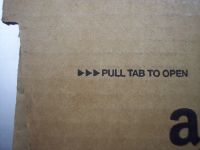 But alas, there appears to be no tab in sight!
I guess I'll never play Electroplankton now. ;_;